櫻金属工業株式会社は、ベアリングの専門メーカーとして、1937年に設立されました。以来ベアリング技術を生かし、自動車のエンジン部品を始めとして、各種産業機器用エンジン部品の製造に携わってまいりました。
現在、世界のトップレベルである日本の自動車技術において、その一翼を担い、また世界のエンジンメーカーからも絶大な信頼を得られていると自負しています。
しかし、私たちはこれに満足することなく、日進月歩で進化している各種エンジン分野において、お客様のニーズに対応する新技術開発と品質の高度化、地球環境保全との共生を図るため、可能性を秘めた若い力を結集して、新たな挑戦を続けています。

WHAT SAKURA METAL INDUSTRY CO. AIMS AT
Sakura Metal Industry Co. was founded as a bearing manufacturer in 1937. Since then,as the most technically advanced maker,we have dealt with manufacturing engines for automobile as well as various industrial equipments. We are proud that we act a part of Japan's advanced automobile technology which leads the world and that we also enjoy the most generous confidence of the engine manufacturer in the world. But we never content ourselves with this.We are making new challenges by the young force in the ever-progressing engines field, such as developing up-to-date technology which meets customers requirements, improving product quality, and living in harmony with natural environment.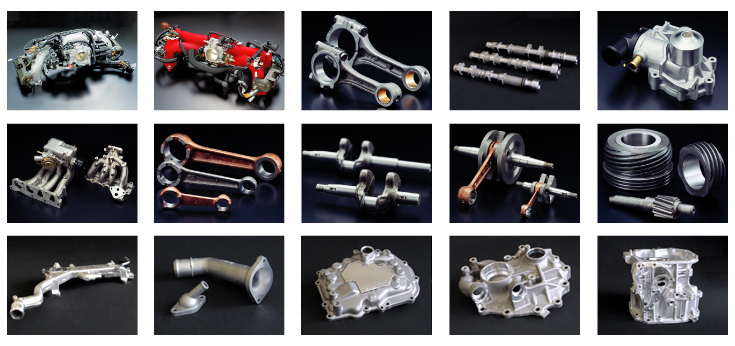 Name: Sakura Metal Industry Co.,Ltd.
Headquarters Plant: 3038-1 Serada-cho, Ota-City, Gunma-Pref. TEL 0276-52-3330.FAX 0276-52-3310.
Obara Plant: 26-3 Obara-cho, Ota-City, Gunma-Pref.
Foundation: June 22, 1937
Capital: 32 million yen
President & CEO: Daiken Fukuda
President: Yoshitaka Iino
No. of Employees: 250
Business Outline:Manufacture of parts for automobiles and industrial, agricultural engines
Main Products:Connecting rods, camshafts, water pumps, pipe water
Main Banks:Gunma Bank, Mizuho Bank


Jun. 1937
Founded as an aircraft bearings manufacturer
Feb. 1941
Built Sengawa Plant in Chofu-City
Apr. 1944
Appointed as a munitions factory
Nov. 1945
Started manufacturing bearings for industrial machines and automobiles
Dec. 1953
Permitted to show JIS certification
Oct. 1964
Started manufacturing parts for automobiles and precision machines
Started manufacturing connecting rods
Dec. 1988
Built Gunma Plant
Installed a new process line for intake manifolds and connecting rods
Jul. 1989
Installed a line for small lot production of a wide variety
of products for intake manifolds, etc.
Dec. 1991
Increased Gunma Plant.Integrated the two plants into one
May. 1994
Increased a line for camshafts, etc.
Dec. 1996
Built an aluminum die cast plant and started production
Mar. 1999
Established Ota Metal Mold Plant and started metal mold business
May. 1999
Obtained ISO9002 certification
Feb. 2001
Started manufacturing dressed intake manifolds
May. 2002
Obtained ISO9001 certification, the year of 2000 version
May. 2003
Obtained ISO14001 certification
May. 2006
Obtained ISO14001 certification, the year of 2004 version
Started manufacturing DOHC camshafts on the consistent line
Jun. 2007
SAKURA METAL (SUZHOU) Co.,Ltd. was established.
3rd plant built & production started(metal mold・machinery)
Jan. 2011
New camshaft manufacturing line started
Sep. 2014
Additional camshaft line settled
May. 2016
Additional camshaft line settled